Cowboys likely to release Ezekiel Elliott: Potential landing spots for third leading rusher in Dallas history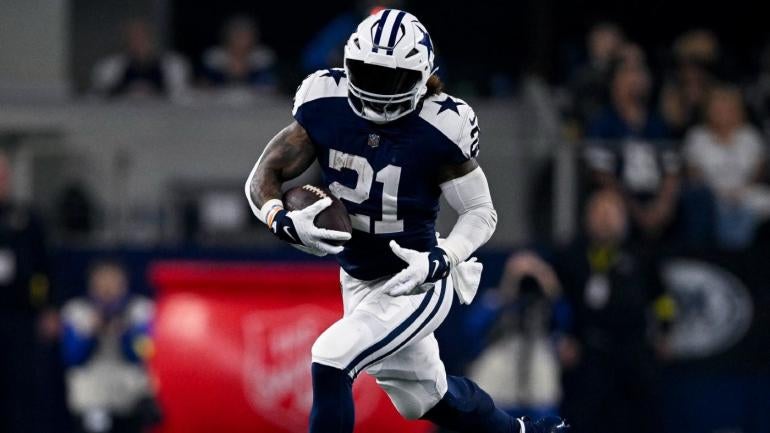 The Ezekiel Elliott era in Dallas appears to be coming to an end. The Dallas Cowboys are likely to release Elliott, who has four years remaining on a massive six-year, $90 million extension he signed in 2019, CBS Sports NFL Insiders Jonathan Jones and Josina Anderson confirmed.
Elliott was arguably the worst starting running back in the league last season, finishing last in the NFL in yards per carry (3.8), tackles avoided (32), and percentage of runs that went for 10-plus yards (7.4%). The Cowboys would save $4.8 million in cap space by releasing Elliott, but would take a dead cap hit of $11.86 million. A post-June 1 release designation would result in Dallas taking a dead cap hit of $5.8 million and saving $10.9 million in cap space. He was owed $64.76 million for the remainder of his contract, but there was no guaranteed salary remaining on his deal.
While the end for Elliott in Dallas wasn't great, he was one of the best running backs in Cowboys history. Third on the all-time list in rushing yards for the Cowboys (8,262), Elliott rushed for 1,000 yards four times in seven seasons, while also reaching double digits in rushing touchdowns four times and earning three Pro Bowl appearances.
Elliot led the NFL in rushing yards per game in three consecutive seasons (2016-2018) and the league in rushing yards twice (2016, 2018). His rushing yards per game numbers have declined each season as a result of the number of touches accumulated over the course of his career, averaging a career-low 58.4 rushing yards per game and 3.8 yards per carry in 2022.
Elliott's release clears the path to make Tony Pollard the featured back in Dallas. Pollard ranked first in the NFL in yards per touch (5.9) last season, as he rushed for 1,007 yards and nine touchdowns.
Potential landing spots
Dallas Cowboys: Could the Cowboys actually bring Elliott back? They could at a restructured deal as a backup running back to Pollard, using him primarily in the red zone. Elliott has a lot more value in Dallas with a cheaper contract that isn't a significant cap hit.
Houston Texans: If Elliott still feels he can be a lead back in the league, he wouldn't have to travel far out to get that opportunity. Houston has Damion Pierce as a starter, but Elliott would get the opportunity for touches. The Texans were 31st in the league in rush yards per game, rushing touchdowns, and yards per carry -- so any player would be an upgrade for that offense. Elliott could certainly get his carries in Houston, paving the way for a young quarterback.
Cincinnati Bengals: Losing Samaje Perine as the power back in that offense was a big blow for the Bengals. Elliott could fill that void as the power back to Joe Mixon, getting opportunities to rack up the tough yards on third-and-short situations and inside the 20. Wouldn't cost much for Cincinnati either.